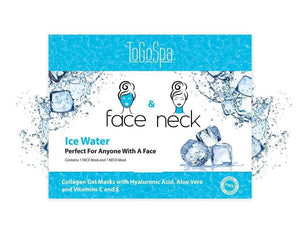 Because Your Skin Doesn't Stop At Your Chin!

Micro-Infused Collagen Gel Masks with Marine Plant Collagen, Hyaluronic Acid, Aloe Vera and Vitamins C and E to soothe dry, sensitive skin and reduce puffiness.
Each pack includes 1 FACE and 1 NECK mask. This formula will improve skin texture and elasticity with cool, refreshing hydration. Suitable for all skin types and Perfect For Anyone With A Face!
Ice Water FACE & NECK by ToGoSpa provides a luxurious at-home spa experience that will nourish your face and provide immediate and visible results.
Quantity 1
Ingredients

PARABEN FREE. DYE FREE. PTHALATE FREE.
Purified Water, Chitosan, Aloe Vera Leaf Gel, Red Seaweed Plant Collagen, Magnesium Phosphate (Vitamin C), Hyaluronic Acid, Tocopherol (Vitamin E), Vegetable Glycerin, Lavender Oil, Allantoin.